All materials must be passed the stringent quality control process.
Provide the best quality products to customers, protecting consumer's health and the ecological environment.
Constantly learning and searching for new products which are not only meet the consumers inquiry but also safety and highly nutritional values for protecting consumer's healthy
The system of modern technological lines, fully automatic handling.
In aseptic environment, no one and no way to interfere with the production process
The leading export beverage manufacturers from VietNam.
Products standard following FDA, HALAL, ISO2200 ( FSSC22000,  GMP, HACCP ) approval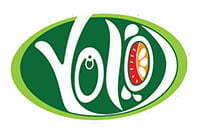 YOLO is the brand applied to only the most exceptional beverage by Aloefile Produce, one of the Vietnam's largest beverage produce marketers. The range of tropical fruits and vegetables bearing the YOLO brand extends from the more familiar to the truly exotic. It includes Coconut water , fruit juice, aloe vera juice , coffee drink , bird's nest, energy drink… YOLO is export brand of Alofield Beverage.